Our Clients / Success Stories
Here You find our most active clients, where we did web design, web development and ongoing SEO services.
Ban Kinaree (Hotel Villa on Koh Samui)
Description: Ban Kinaree, Hotel Villa on Koh Samui!
Ban Kinaree Hotel Villa sits on the skirts of Bophut Hills, with stunning sunrise and sunsets settings, while dominating the neighbouring island of Koh Phangan and the Gulf of Siam. Its barely a 5-minute drive from the lively Fishermen Village, Bophut Beach and a short drive to the main island ring road. With only a 30 minutes' drive to Samui International Airport and less than 20 minutes to Chaweng shopping distric, it couldn't be in a better location.
Website-URL: Ban Kinaree
Skill's used: WordPress, Gravity Forms, Youtube
See Samui (Private Touren im Süden und Südwesten von Koh Samui)
Description: See Samui, die etwas andere Art, Koh Samui zu entdecken! Bei uns zählt die Gastfreundschaft!
Wir würden uns freuen, Ihnen unser Spezialgebiet, den weniger bekannten Süden & Südwesten der Insel näher vorstellen zu dürfen.
Auf unseren einmaligen, privaten Touren, die wir individuell gestalteten, lernen Sie auf eine etwas andere und eindrucksvolle Art den schönsten Teil von Koh Samui, den Süden und Südwesten dieser Insel kennen, der zugleich unser Zuhause ist. Sie besuchen Orte, die sich fern von Hektik und abseits des grossen Touristenstroms befinden.
Website-URL: See Samui
Skill's used: WordPress, Gravity Forms, Youtube
Jungle Club Samui (Boutique Resort)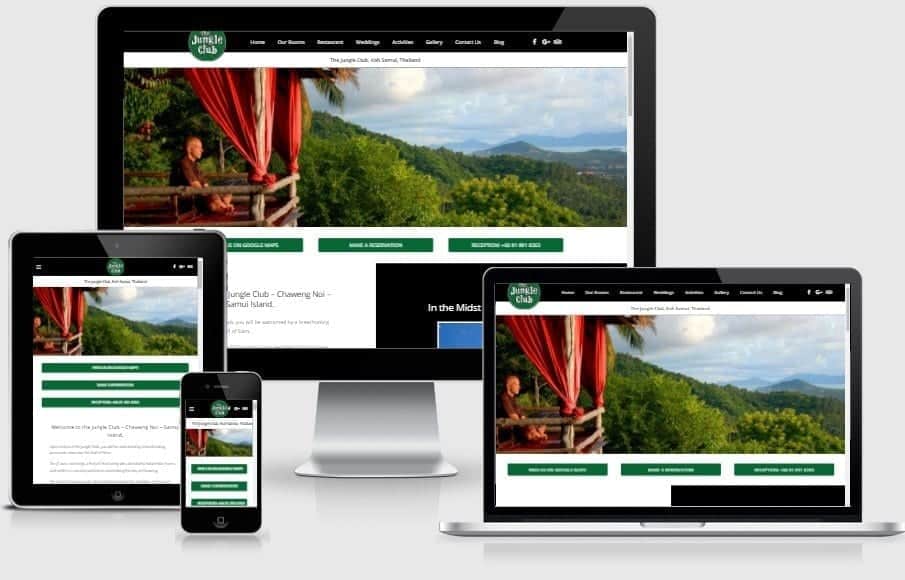 Description: Upon arrival at the Jungle Club, you will be welcomed by a breathtaking panoramic view over the Gulf of Siam.
The JC was created by a French-Thai family who decided to follow their hearts and settle in a coconut plantation overlooking the bay of Chaweng.
The Jungle Club was built using traditional materials, following the natural landscape. Space, calmness and privacy surround you making it ideal for a relaxing and rejuvenating break.
Our infinity pool is the perfect place to replenish your spirit. Take a "time out of time" floating between the blue ocean and the endless horizon.
Chill Out and unwind at our restaurant and bar where you will be able to choose from an extensive menu.
Relax in the day under the shade of the enormous umbrella straw roof while sipping on our generous signature cocktails or enjoy a romantic evening by candlelight overlooking the illuminated bay of Chaweng.
Website-URL: Jungle Club Samui
Skill's used: WordPress
Grand Sea Tours (Grand Sea Discovery Co., Ltd.)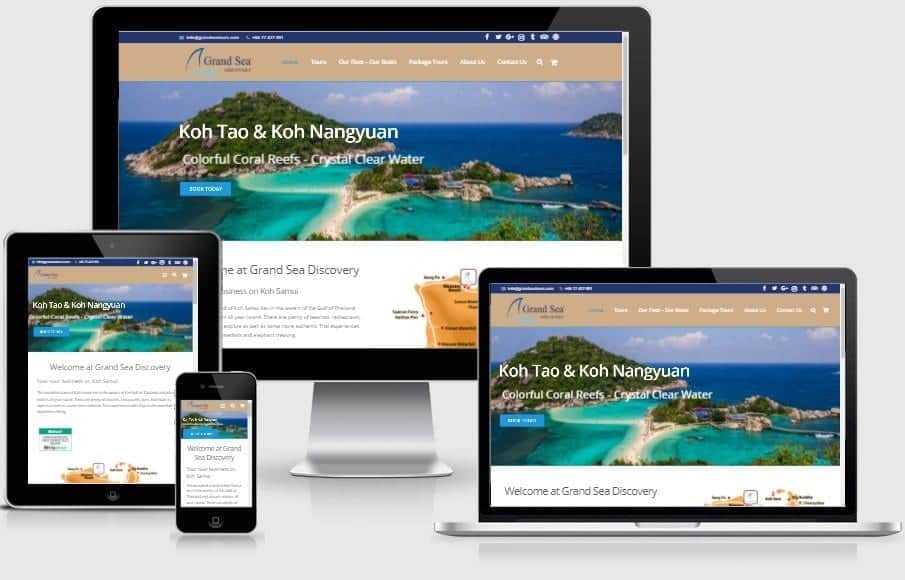 Description: Our main business is operating snorkeling tours and trips around Koh Samui, with destinations to Koh Tao & Koh Nang Yuan, such as the beautiful treasure Angtong National Marine Park.
Our popular tours & trips are:
Koh Tao & Koh Nang Yuan, as known for the nice, colorful corals reefs and crystal clear water. This tour is a nice day tour for snorkeling during Your stay on Koh Samui.
Angthong National Marine Park Tour, the treasure of 42 islands with corals reefs, emerald lake and beautiful beaches. This activity gives You the possibility to snorkeling and kayaking, such as relaxing on a beach.
The Koh Phangan Tour is our popular sightseeing trip to Koh Phangan, combined with relaxing beach time.
Beside the daily running tours, we are running the transfer business to the worlds most famous party on Koh Phangan – the Full Moon Party! If You book with us, You can ensure, that the transfer from Koh Samui and back from Koh Phangan is safe!
For smaller groups or individuals, we have our Private Charter Boat Service, where You are able to book Your own boat, inclusive our experienced crew. The destinations we are running this services are: Koh Tao & Koh Nang Yuan, Angthong Marine Park, Koh Phangan or Koh Tan / Koh Madsum. Koh Tan and Koh Madsum destination is not so popular and most only from local companies used as snorkeling & relaxing destination. With Grand Sea Tours, You have the privilege to visit those 2 beautiful islands in the south of Koh Samui.
Website-URL: Grand Sea Tours
Skill's used: WordPress / WooTours / WooCommerce
Samui Island Divers
Description: Here at Samui Island Divers we can offer you a vast range of dive tours to Koh Tao and Antong Marine Park most days of the week. The staff here at Samui Island Divers have lived and work here diving since 2004 so we have a vast amount of knowledge to advise you on the best dive sites here to suit your needs. The boats we use are modern up to date catamaran which cruise to Koh Tao most days of the week, we also go to Sail Rock which is consider to be one of the best dive site here in the Gulf of Thailand. The temperature of the water here in the southern Gulf of Thailand averages around 29 degrees Celsius throughout the year so no dry suit needed.
Website-URL: Samui Island Divers
Skill's used: WordPress
Member Diving
Description: Member Diving is a Swiss diving school for ambitious and demanding divers.
As a German-speaking diving shop with Swiss management our philosophy consists of a great value of security, quality and customer satisfaction.
All diving instructors of our team have long-standing diving experience and are specialists for the diving area all around Koh Tao. They know the diving spots here in the golf of Thailand like their vest pocket.
Website-URL: Member Diving
Skill's used: WordPress, Multilingual, SEO
Samui Island Explorer
Description:
Samui Explorer is a small family run business located inside the Big Buddha Temple. Our office is situated inside our coffee shop The Big Buddha Coffee Trading since 2012 we have grown rapidly becoming one of Koh Samui's reputable Tour Agencies and Private Tour Company.
Samui Explorer specializes in Private Tailormade Island Tours and Private Airport/Pier Transfers to and from Resorts and Private Villa's around the Island Samui Island Explorer recommends, reserves only the highest rated operators on Koh Samui that offer excursions and activities.
Website-URL: Samui Island Explorer
Skill's used: WordPress
Ash Tailor Samui
Description:
Ash Tailor Samui specialized in custom made suits, dresses, shirts, overcoats and sports jackets for men and women, in high quality of fabrics, such as cashmere wool and many more.
We are serving customers from all over Koh Samui.
On request, we come to your hotel / resort and make a fitting of your garment. By providing a free private pick-up service, You are able to visit us in our shop in Bophut, opposite Bandara Resort / Anantara.
Website-URL: Ash Tailor Samui
Skill's used: WordPress, Multilingual, SEO
Dive Wishes & More
Description: Dive Wishes & More is the premier SSI dive center in Koh Tao offering the highest quality of service for reasonable prices.
Dive Wishes is also one of the only dive schools on the island that operates with own speedboats. You can enjoy fast travel times to all of the dive sites around Koh Tao by speedboats.
We offer a full range of SSI courses taught in multiple languages from Beginner till up to professional level training.
Website-URL: Dive Wishes & More
Skill's used: WordPress, Multilingual, SEO